IESE Business School: Global Scope, Personal Impact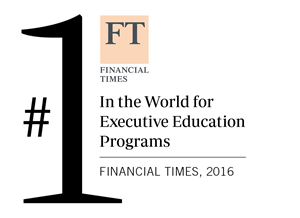 At IESE, we seek to impact on business and society by offering high-quality learning to participants from around the world. Our programs are designed and delivered by faculty who are recognized for their dedication to teaching and research, with close ties to the international business community. 

A hallmark of the IESE experience is the school's dedication to the individual development of each student and participant in our programs. We do this by fostering a culture of learning, and by placing the professional and personal development of all program participants at the center of our concerns. This people-centered approach reflects our belief that the aim of managers must be to serve people and society. 

IESE Business School delivers top-ranked programs that will advance your global leadership competences. We offer MBA programs, executive and global executive education programs, among others. Today IESE's 45,000 alumni are working in more than 120 countries around the world. Every year the Alumni Association organizes hundreds of education sessions and reunions, creating links, enabling networking and making IESE an ongoing and valuable experience.


Mission 
IESE Business School is committed to the development of leaders who aspire to have a positive, deep and lasting impact on people, firms and society through their professionalism, integrity and spirit of service. IESE aspires to remain a world-class and truly global business school, with five campuses in Barcelona, Madrid, Munich, New York and Sao Paulo.

People centered

IESE Business School believes that people should be the cornerstone of all management practices. In today's globally-linked business world, we believe this fundamental principle is becoming increasingly evident. Only by placing priority on the people who work for and are affected by company activities, can organizations prosper and benefit society in the long-term. 

An emphasis on people extends to the way the school carries out all its activities. Programs and IESE faculty are frequently available for consultation outside of class. The school's size lends itself to frequent interaction among students and staff. Consequently, alumni often note that IESE's personal and friendly atmosphere was one of their primary reasons for choosing the school. 


Global Scope
Every IESE program provides a global experience. Participants and faculty come from all over the world and the classes themselves are infused with the reality of the globalized economy providing a very strong international and cross cultural perspective. We believe that if you want to do business in a global marketplace, you need to understand how the world does business. Across borders, across cultures, across markets. With campuses and centers across  five continents, a 100+ faculty of world-class thinkers representing more than 30 nationalities and a 45,000-strong alumni community that spans the world, IESE is unique in global outlook, scope and reach.


General Management Approach
We believe in taking a holistic approach. IESE programs are taught from the general management perspective, from the vantage point of leadership, because we believe that when you see the bigger picture, you take better decisions. Participants will gain deep insight into how the different and complementary functions of a company work together.
Participants will be exposed to active learning methodology – simulations and the case method –, as they explore new approaches and perspectives to real-life business problems from all over the world.

Outstanding Faculty and Cutting-Edge Research

Over 100 full-time professors and around 70 external collaborators who represent almost 30 countries and hold PhDs. from the top business schools in the world form IESE's faculty. Their dedication to teaching, the impact of their research and their experience working with companies around the world are central to IESE's continued success in providing excellence in management education.


The Case Method 

The highly dynamic and practical case study method, which was first developed at Harvard Business School, is the main methodological tool used in IESE programs. While other complementary teaching methods such as lectures, workshops and simulations in the classroom are often employed, the case study method is the central approach used by IESE faculty. 

Through the use of research-based business cases, students and faculty engage in a process of analysis and in-depth discussion of the real-life challenges faced by companies worldwide. Moreover, IESE faculty are prolific producers of cases and technical notes, enabling them to build and maintain strong links with industry. 


"A Way to Learn, A Mark to Make, A World to Change"
Programs
IESE programs take a people-centered approach towards management education by focusing on individuals as the center of companies and their challenges. An emphasis is placed on developing a global mindset that comes from understanding the diverse cultural and social dimensions that influence business worldwide. We offer a full portfolio of programs:

MBA: IESE offers three different MBA programs adapted to every stage of your career. All are built on a general management perspective and a commitment to ethical leadership. They will expose you to current issues in international business, and cutting-edge research on which to base real-world solutions. A transformational learning experience that will empower you to make your mark.

Executive Education: Education programs are highly practical and flexible, adapted to the different professional needs of individuals and the strategic goals of organizations. Delivered across five continents and built on rigorous academic curricula, our portfolio will help you make a sound investment in your future and the future success of your business.